29/08/2010 12:06:04 AM
Season 13 Grand Final Results
---
With a field of 103 starters, 10,000 chip stacks and over 1,000,000 in chips, play started out slowly. However, as the blinds started to creep up, we saw players knocked out very quickly, moving to the cash tables and sit n goes for the rest of the day.
We ended Day 1 with two tables of 7 players, each of who will return tomorrow to fight it out for the top 10 prize money!
Congratulations, and best of luck on Day 2, to the following members (with chip counts) -
Andrew Fleming - 164,000
Adam Woods - 150,000
Jay Zanoli - 134,000
Todd Warner - 129,500
Phill Greatrex (Team WAPL WSOP '10) - 87,000
John "Bubbles" Dean (Has bubbled in 2 Grand Finals!) - 81,000
Lee Burgess - 52,500
Steve Burgess - 46,500
Milan Nerad (S13 Venue Winner, Brighton Hotel) - 39,000
Deborah Fisher (Team WAPL WSOP '10) - 37,000
Terresa Teale - 36,500
Colin Wilford (S12 Grand Final Runner-up) - 29,000
Dave Beckhaus - 26,000
Ian Slater (S5 Grand Final Champion) - 19,000
Day 2 saw the return of our 14 Pro players, with big swings in chips by almost all players. The chip lead changed on many occasions throughout the day, but we eventually got down to our final 2 players, Steve Burgess and Andrew Fleming. After a great heads up, Andrew took out the tournament after coming into Day 2 as chip leader, picking himself up over $14,000 cash and the Grand Champion Trophy in the process!
Congratulations Andrew on such a great effort over both days!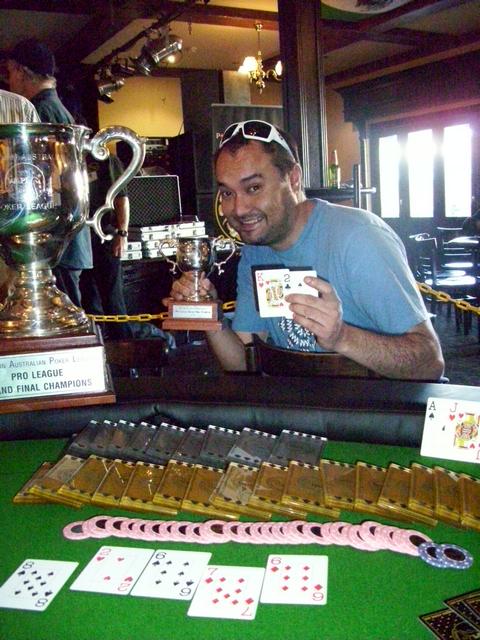 In the Free League Grand Final held on Sunday, we had 69 players fighting it out for the Free League Champion Title. In what was a great tournament full of fun, we eventually saw heads up between Lee Matfield and Steven McCarthy, with veteran Steve taking out the title! Congratulations Steven for your great win!