3/02/2011 1:45:10 PM
News from Team WAPL @ ANZPT Adelaide (Live coverage)
---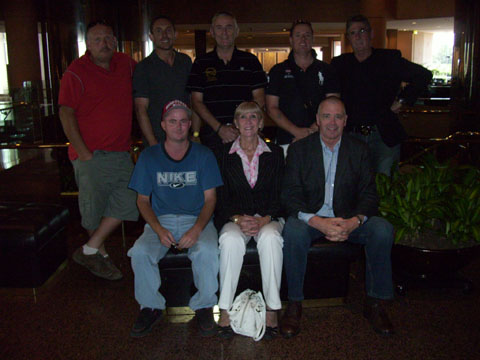 The team arrives in Adelaide
Of the 8 team members, 7 are through to the ANZPT Adelaide Main event!
Michael Healy (22nd in the Aussie Millions just a couple of weeks ago!) played in Day1a. He had a run of about 2.5 hours with absolutely no cards he could play, but has done well to end Day1a with 57k from his 20k starting stack. Mike now has a day off to prepare for Day2 while Day1b is underway...
Day1b saw 6 of the WAPL Team start (Patrick, David, Jeff, George, Clinton and Jill). Unfortunately Patrick Healy was knocked out early in Day1b, with a shocking run of KK being beaten, then the very next hand having JJ beaten by a straight. Bad luck Pat.
The other 5 players have settled in, with Jill (who was at Pat's table) having some particularly tough competition (including Australia's top online poker player, who made 1 million+ in online winnings last year). This table has seen 3 players knocked out so far, which is the most from a table this early in the day.
With 20k starting stacks and 60 minute blind levels, the structure is nice and slow.
3:20pm (AWST) - The 5 team members are still playing in Day1b. 4 are sitting comfortably, and David Evans is short stacked with 3,000 in chips. A few double-ups and he'll be back in it! Go team!
4pm (AWST) - With 1.5 hours of play left in Day1b, 5 WAPL Team members are still in. David is still hanging in there with 2.5k. Over 60 players have been eliminated so far. Hopefully our 5 Team members can make it through to Day 2...
4:06pm (AWST) - David was just knocked out. Got his chips in with Ace 9 vs 4 7, but a 4 hit the flop and he didn't improve. Bad luck David.
4:13pm (AWST) - Jill has just doubled up with Ace Jack vs Ace 8. Her stack is now 23k.
5pm (AWST) - With 30 minutes left in play, Jeff's stack is 43k, Jill 22k, George 18k, and Clinton 14k. Blinds are currently 400/800.
5:20pm (AWST) - Both Jill and Clinton have been knocked out of the Main Event with 16 minutes remaining in Day1B. Jill was busted with AJ on a board of J4468 by a player with a 4 after some pre-flop raising. Clinton was knocked out by reigning ANZPT Champ Tony Hachem. Clinton holding pocket Queens vs Hachem's AJ offsuit, which hit an Ace on the river. Bad luck Jill and Clinton.
Day2 - 11:15am (AWST) - News from the team as Day 2 progresses is good! There's 77 players left at last count with top 27 being paid. The blinds are currently 800/1600 with an average of 65k chips. Jeff is now on 60k after a great 30k pot won by calling a big bluff. George was low stacked but has just doubled up and then tripled up to 35k! Michael is also still in the race!
Day2 - 8pm (AWST) - Michael Healy copped a nasty beat to get out before the end of day 2. George hung in there with very few chips and no playable cards. He ended in 47th place overall. Great effort George! He says that he "learnt a lot and had a great time!" At the end of Day 2 Jeff is the last WAPL Member standing! He's got 54k with a 138k average and is playing super-tight! There are 36 players left with 27 getting in the money. Good luck for Day 3 Jeff!
Day 3 - 10:40am (AWST) - News has just come through that Jeff has been knocked out of the ANZPT Adelaide Main Event. Having been surviving but card dead for the entire day, he finally saw pocket queens and took his chance. As fate would have it, his queens ran into pocket aces, which held, knocking Jeff out in 32nd place. So close! Bad luck Jeff.
We will be posting more updates to this thread as we get news from the Team!
Good luck Team WAPL ANZPT Adelaide!