14/04/2011 6:33:46 PM
New King of the Hill @ CFC 29th April!
---
King of the Hill returns to Claremont FC this Friday
WA Poker League Presents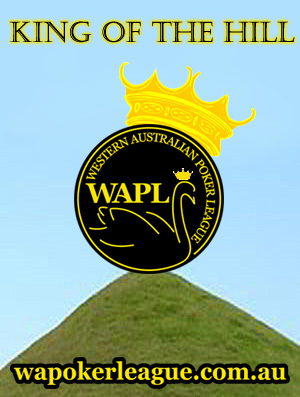 Date - Friday 29th April, 2011
Time - Registration 6-7:30pm, Cash Tables and Steps from 6pm
Tournament Start 7:30pm
Cost - $20 buy-in, with a $10 re-buy option upon losing a crown.
Location - Claremont Football Club, Davies Rd, Claremont. Remember, the club is close to public transport. If you're driving, there's lots of parking available too!
Get down early! There is a limit of 40 seats.
Details - This is a tournament variation we have designed and call King of the Hill. We hope you enjoy it!
Each player starts the tournament with equal chips, and a "Crown". If you lose your chips, you lose your crown but have a "life" rebuy to continue in the tournament.

If a player with a crown takes out another player with a crown, the losing player's crown is removed from the tournament.

If a player without a crown takes out a player with a crown, they get the crown and therefore have another "life" should they get knocked out.
The winners are the last 3 players with crowns remaining in the tournament, and the overall winner will be crowned "King of the Hill"! The King of the Hill takes 50% of the prize pool, 2nd 30%, 3rd 20%! ($15 entry to prize, $5 to Claremont FC fundraising, 100% of re-buys goes to prize).
There will be Cash Tables and Steps to Success Sit n Goes running, so this is definitely an event not to miss!
This event is open to current WA Poker League members and/or members of Claremont Football Club. There is NO necessity to play in the event to take part in the Cash Tables and Steps Sit n Goes.
Claremonts Freeroll Tournament is still on at 6:15pm, and Free League will start at the regular time of 7:30pm!
Other important tournament notes -
Players start with 5000 in chips
The "rebuy" for losing a crown is either 2500 in chips OR 3x the current big blind, whichever is greater. (Big blind based on the hand in which they went out in)
If a crowned player is taken out in a hand with more than one uncrowned player splitting the pot, the uncrowned player with MORE chips takes the crown. If they had identical stacks, the crown goes to the player left of button (worst position relative to the dealer)
If a crowned player is taken out in a hand with one uncrowned player splitting the pot with another crowned player, the uncrowned player takes the crown.
If a shorter stacked uncrowned player is all-in in a hand vs multiple other players, which sees a higher stacked crowned player get knocked out by another player (either crowned or uncrowned), even if the short stacked uncrowned player wins their all-in, if they didn't have the crowned player's chips covered, they cannot claim the crown.
To be eligible for a Crown rebuy, when getting out you MUST immediately raise your hand with the Crown and call over a staff member. If you try to hold off for the next blind change, etc, you will be disqualified from the tournament.
Unless altered above, all WAPL Pro League Rules apply to this tournament.

We look forward to seeing you at the King of the Hill event, and anticipate another great night of poker!
Gaming Function by Permit under Section 47 of the Act conducted for Claremont Football Club