---
Current News
---
16/05/2017 - It's WAPL's 11th Birthday this week! -
Permanent Link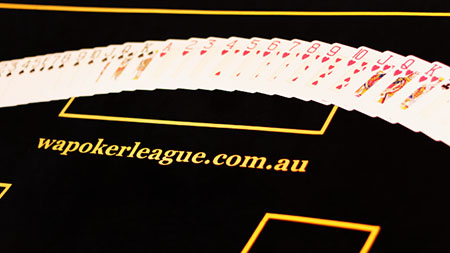 This week, we celebrate 11 years of Western Australia's first Poker League, WAPL!
It's been a fun ride so far, with its ups and downs, many players and prizes joining us along the way, and more bad beat stories than we could ever have a chance of remembering :)
We'd like to thank all our members, past and current, for helping us shape the league over the years. We're really happy with where we're at, with a great range of games for players from brand new learners to hardened veterans of the game.
Our tournaments are second to none in fun and payouts for what you pay to play, and our cash tables are professional, fair, and respectful.
We welcome you down this week to help us celebrate at the Woodvale Tavern on Thursday night from 6pm. There will be some extra special prizes, some goodies we've picked up over the years, which we are sure will make worthy trophies for your poker collection!
Spread the word, and we look forward to hosting you for another fun night with WAPL as usual!
Thanks again for your support!
Your WAPL Team
1/05/2017 - Introducing the WAPL Live Table! Watch us play! -
Permanent Link
11 years ago, when we started WAPL, we (with the help of life member Buck Hetherington) designed and created the WAPL Grand Final Table, an 8 camera inlaid table which was used to record the hole cards of players who reached final table in our Grand Finals. The footage could then be used to create DVDs for our members, to help commemorate these special events.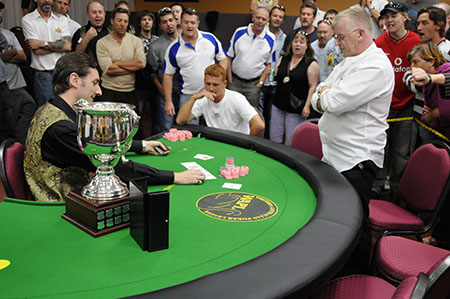 Unfortunately, the process was painstakingly slow, manually calculating and inputting cards into the DVD creation process, for each big hand, was a nightmare. Not to mention that the table took 5 people to lift this masterpiece!
Skip forward nearly 11 years, and we are delighted to announce the creation of the WAPL Live Table, a completely custom, RFID inlaid table, utilising RFID cards and software to automatically identify and generate card graphics, hand to win percentages, and everything you are used to seeing on television when you watch poker at the WSOP or WPT events!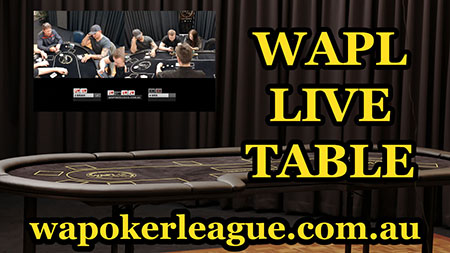 We have been trialling the WAPL Live Table for the past month, recording and releasing footage (if you've missed it) to our YouTube channel (http://youtube.com/wapokerleague) and Facebook (http://facebook.com/wapokerleague)
Now it's time to trial the live streaming side of things, and to properly announce the arrival of the table!
From Tuesday 2nd May, we will (unless we experience issues) be streaming our WAPL Live Table games to our all new Twitch channel, http://twitch.tv/wapokerleague
Make sure you head there and follow us, so you get notified when we go live!
Our live games will be delayed by 15-30 minutes, to avoid the potential for viewers to influence hands in play, so that means that for a 6pm-midnight event, you should be able to watch us live from 6:15-6:30pm until the end of gaming.
Please get involved, hop into the live chat and give us your comments, suggestions, and any criticisms you might have for us to make the WAPL Live Table experience the best it can be for our viewers, members, and players, and help us spread the word around the local (and wider) poker communities.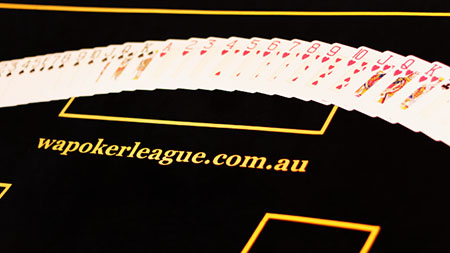 If you want a seat on the WAPL Live Table, email us (info@wapokerleague.com.au) and we will find a slot, but please be patient as seating is in high demand!
WAPL Events are conducted at Gaming Functions by Permit issued under Section 47 of the Act for various charity and not for profit organisations.
We promote and conduct responsible gaming. If you feel you may have a problem gaming issue, we encourage you to call the Gambling Helpline on 1800 858 858 and also see http://www.gamblinghelpline.org.au
---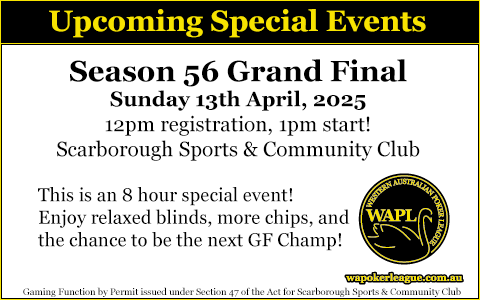 ---
Quick Links
---
Western Australian Poker League promotes and conducts responsible gaming. If you feel you may have a problem gaming issue, we encourage you to call the Gambling Helpline on 1800 858 858 and also see www.gamblinghelpline.org.au